Sedona BioPhoton Light Sessions:
Need accommodations in Sedona? Let us know, we can help find you a place to stay while you get your sessions! You can check out on Room in Sedona Airbnb at this link for Sedona. If you don't find the dates you need, don't hesitate to call us. We will find you a place. You may call us as well as 808 280 7756,  ask for Sandra.
Sedona Photon  Light:
While you receive your sessions using the biophoton light therapy with the CHIREN, you can visit our beautiful city of SEDONA.  Impressive sites to see, art galleries, spiritual experiences, scenic tours..
Sedona offers everything from contemporary art to ancient culture.
A world-renowned art Mecca, Sedona is proud of countless galleries featuring both Western and Native American art, contemporary art, photography sculpture, jewelry, ceramics, textiles and more.
Sedona's artists and galleries make art accessible to everyone, from the serious aficionado to the casual appreciator. Come and experience the Sedona cultural experience while exploring the lives of the ancient people.
Here is a list of our art-related recommendations:
Some of the best artists in the world have lived and worked in Sedona.
Sedona Area Guild of Artists (SAGA) is a professional visual artists organization working with the art community to archive some of the exceptional artists who have lived here in the past, including such diverse artists as internationally- acclaimed surrealist-painter Max Ernst and Sedona's own Joe Beeler, who helped initiate the Cowboy Artists of America in a little bar half a block from The Amara Resort and Spa.  SAGA strives to push the bar of quality for the visual arts in Sedona.  These local artists provide all the art work for the Amara Resort and we are thrilled to serve as their contemporary art gallery for our visitors.  Learn more at www.sedonaSAGA.com/.
NOW –  Sedona Biophoton Light Therapy Sessions!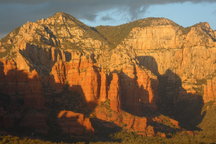 Some local Artists and Galleries include:
The Sedona Arts Center – a gathering place where artists and those who love art can learn, teach, and exhibit their works. Learn more at www.sedonaartscenter.com.
The Sedona Heritage Museum , listed on the National Register of Historic Places, is a Sedona museum in Sedona, about Sedona — there's no better way to say it. Visit www.sedonamuseum.org for times and location.
The Sedona International Film Festival . See www.sedonafilmfestival.com for event details and show times.
First Friday of each month, members of the Sedona Gallery Association offer a unique monthly showcase highlighting artists, special exhibits, and art events.
Check out www.sedonagalleryassociation.com for more details.
Sedona Biophoton Light Sessions